Domestic Tour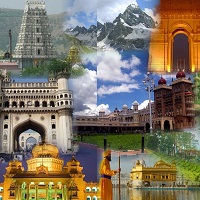 We are a well-known Tour Operator in Delhi, and offer our clients with top class Domestic Tours Packages. If you are planning to visit India, we can help you. India is a vast country known for its rich culture, beautiful landscapes and exotic variety of food available.

Our experienced professionals plan tour packages according to the requirement and budget of the client. The packages offered by us are well planned as we take the travelers to the best locations at affordable rates. We take care of every requirement of the client and offer the best quality services to them.

Pilgrimage Destination : Vaishno Devi, Shri Amarnath G, Char Dham, Kailash Mansarovar, Shirdi, Tirupati, 11 Jyotirling Yatra, Jagganath Puri, Rameswaram, Mathura, Golden Temple etc.

Tourist Destination : Jammu & Kashmir, Himachal, Goa, Kerala, Darjeeling & Gangtok, Andaman & Nicobar etc.
Price On Request

Duration : 14 Nights / 15 Days

Destinations Covered : Ajmer, Bikaner, Jaipur, Jaisalmer, Jodhp..

Price On Request

Duration : 6 Nights / 7 Days

Destinations Covered : Leh Ladakh

Price On Request

Duration : 3 Nights / 4 Days

Destinations Covered : Leh Ladakh

Price On Request

Duration : 4 Nights / 5 Days

Destinations Covered : New Delhi, Nainital, Corbett

Price On Request

Duration : 5 Nights / 6 Days

Destinations Covered : Mussoorie, Nainital, Corbett

Price On Request

Duration : 5 Nights / 6 Days

Destinations Covered : Port Blair

Price On Request

Duration : 5 Nights / 6 Days

Destinations Covered : Port Blair

Price On Request

Duration : 6 Nights / 7 Days

Destinations Covered : Port Blair

Price On Request

Duration : 4 Nights / 5 Days

Destinations Covered : Port Blair

Price On Request

Duration : 6 Nights / 7 Days

Destinations Covered : Chandigarh City, Kullu, Manali, Shimla

Price On Request

Duration : 10 Nights / 11 Days

Destinations Covered : Chandigarh City, New Delhi, Dalhousie, M..

Price On Request

Duration : 2 Nights / 3 Days

Destinations Covered : Ajmer, Jaipur, Pushkar

Price On Request

Duration : 3 Nights / 4 Days

Destinations Covered : Bikaner, Jaipur

Price On Request

Duration : 1 Nights / 2 Days

Destinations Covered : Agra, Fatehpur Sikri

Price On Request

Duration : 6 Nights / 7 Days

Destinations Covered : Ajmer, Jaipur, Jodhpur, Pushkar, Agra

Price On Request

Duration : 4 Nights / 5 Days

Destinations Covered : Bikaner, Jaisalmer, Jodhpur

Price On Request

Duration : 1 Nights / 2 Days

Destinations Covered : Udaipur

Price On Request

Duration : 4 Nights / 5 Days

Destinations Covered : Kumbhalgarh, Udaipur, Ranakpur

Price On Request

Duration : 4 Nights / 5 Days

Destinations Covered : Leh Ladakh

Price On Request

Duration : 3 Nights / 4 Days

Destinations Covered : Goa City

Price On Request

Duration : 7 Nights / 8 Days

Destinations Covered : Katra, Srinagar, Pahalgam, Sonamarg, Gul..

Price On Request

Duration : 9 Nights / 10 Days

Destinations Covered : Chandigarh City, New Delhi, Manali, Shim..

Price On Request

Duration : 6 Nights / 7 Days

Destinations Covered : New Delhi, Manali, Shimla

Price On Request

Duration : 9 Nights / 10 Days

Destinations Covered : Chandigarh City, New Delhi, Kullu, Manal..

Price On Request

Duration : 11 Nights / 12 Days

Destinations Covered : Mussoorie, Nainital, Bageshwar

Price On Request

Duration : 10 Nights / 11 Days

Destinations Covered : Kumarakom, Kochi, Kovalam, Thekkady, All..

Price On Request

Duration : 6 Nights / 7 Days

Destinations Covered : Chandigarh City, New Delhi, Manali, Shim..

Price On Request

Duration : 6 Nights / 7 Days

Destinations Covered : Gangtok, Darjeeling, Pelling

Price On Request

Duration : 6 Nights / 7 Days

Destinations Covered : Jaipur, Jodhpur, Udaipur

Price On Request

Duration : 4 Nights / 5 Days

Destinations Covered : Kochi, Thekkady, Alleppey, Munnar

Price On Request

Duration : 7 Nights / 8 Days

Destinations Covered : Jammu, Srinagar, Pahalgam

Price On Request

Duration : 4 Nights / 5 Days

Destinations Covered : Port Blair

Price On Request

Duration : 3 Nights / 4 Days

Destinations Covered : Darjeeling

Price On Request

Duration : 11 Nights / 12 Days

Destinations Covered : New Delhi, Dalhousie, Manali, Shimla, Dh..

Price On Request

Duration : 3 Nights / 4 Days

Destinations Covered : Kochi, Kovalam, Alleppey, Kanyakumari

Price On Request

Duration : 4 Nights / 5 Days

Destinations Covered : Goa City

Price On Request

Duration : 5 Nights / 6 Days

Destinations Covered : Leh Ladakh

Price On Request

Duration : 4 Nights / 5 Days

Destinations Covered : Srinagar, Pahalgam, Gulmarg